Starch kitchens for paper
and corrugated cardboard
We are the largest starch kitchen manufacturers
in Europe for corrugated cardboard and paper.
Manufacturer of starch kitchens for paper and corrugated card
We are the leading company on the market at a European level in the development and installation of starch kitchens for corrugated cardboard. Thanks to our experience of more than 30 years, we have become specialists in equipment application, as well as product application. Our corrugated cardboard kitchens offer the possibility to produce glue with any kind of wheat, corn, tapioca or potato starch, whether modified or native. Our machines can also operate equally with clean water or water that is recovered from the process, at the same time as enabling the addition of liquid or solid additives to supplement the glue manufacturing.
Kitchens for native or modified starch.
Kitchens for corn, wheat, potato and tapioca starch.
Standard Coromat-style kitchens (Minocar, Stein Hall, OBM and Non-carrier).
Hoppers for sacks and automatic big bag unloaders.
Starch storage silos, in steel and stainless steel, from 25 to 400 m³.
Endless screws and pneumatic transport..
Glue stock and viscosity maintenance systems.
Storage deposits of auxiliary products for glue manufacturing.
Recycled water recovery systems for glue production.
We provide the best technical assessment.

Made-to-measure manufacturing.
We provide made-to-measure installations optimised to reduce costs of automation with three levels. We adapt the size of the equipment and systems to the customer's operational needs.

Kitchens constructed using a modular, customised system.
Always adapted to the customer's needs. The modular system enables us to adapt the glue manufacturing equipment, at any time, to the glue production needs and performances that can vary over the years.

Our own software which is open and always updated.
Our kitchens are always updated to the latest technological development. We carry out updates on starch kitchens prior to Coromat 4.0. Our software is open and is always updated with the latest novelties on the market.

Made-to-measure retrofits.
Our retrofits offer the possibility to transform and update your current glue kitchen to a latest generation Coromat 4.0 (Minocar NG) system.

Daily production reports.
Our systems carry out daily production reports as well as reports on the different starch consumption points. You will have full control to monitor the production.

Full automation with feedback and self-learning to obtain high gluing performance.
Our algorithms identify, in real-time, the evolution of the glue acting in consequence, providing the system with learning feedback to maintain the quality level of the glue.

Smart remote control.
All our starch kitchens have latest generation remote control and telemetry systems. Our customers can supervise and control their glue kitchens from their mobile phone or tablet.

Fast glue change with automated dragging system to prevent mixtures.
Our machines and systems enable a superfast change to streamline and optimise your glue production.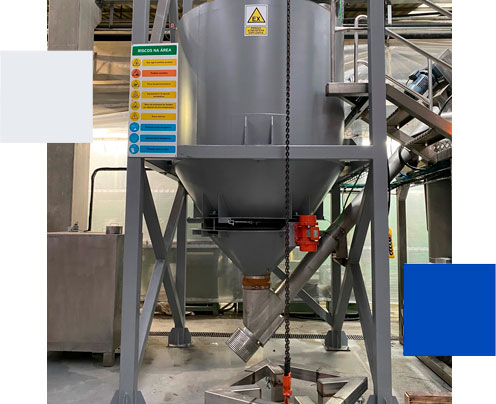 Raw materials
Our kitchens have the ability to produce using any kind of starch: corn, wheat, potato and tapioca, whether native or modified. We have hoppers for unloading manual sacks, big bag unloaders, whether automatic or manual, with or without hoists. Starch silos in steel or carbon, or stainless steel, up to 400 cubic metres/200 tonnes of product. Endless screws from 3 kg per hour up to 24 tonnes per hour. Pneumatic transport systems. Clean water, water recovered from the processes. We have our own system for treating the water from washing the corrugator. Unique control algorithms to detect the quality of the water and adaptations in real-time to guarantee the quality of the glue. Steam, saturated or not, from 2 to 12 bar pressure. Our own algorithms to control condensate. Chemical additives. Automatic dosage systems whether the product is solid or liquid.
Glue preparation unit
We offer a production capacity of 800 to 3,000 kg per batch in the same piece of equipment. The unit is fully automated with automatic control of viscosity and smart control logic.
We have provided the system with autonomous capacity for adaptation of formulas in keeping with the attainment of objectives. We thereby manage to interpret values of temperature, viscosity and rheology and act accordingly with self learning. This is translated into high reproducibility, time after time, with a viscosity control that is unique on the market. We provide glue preparation agitators with medium, low and high shear stress of 20 to 60 horsepower.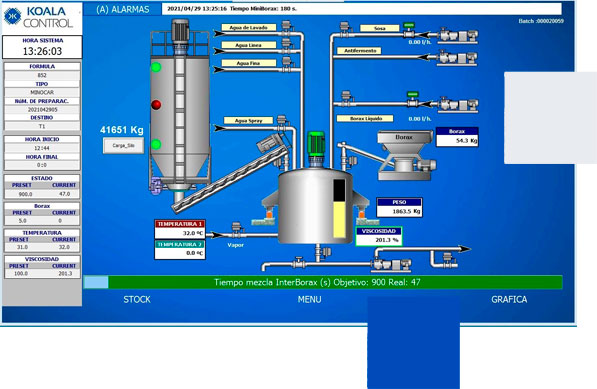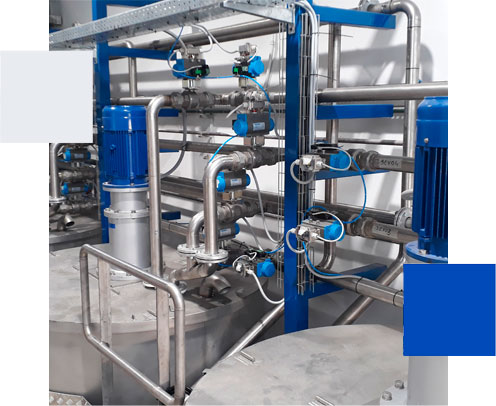 Stock tanks
Starch stock systems of 4 to 8 cubic metres. Stock tanks with glue air-conditioning system. Agitators especially designed to maintain the glue.
Starch circuits
Circuits for the distribution of glue either in a universal loop circuit or point to point.
Automated glue sending systems.
Fast glue changes.
Automatic cleaning systems.
Specific developments for low energy consumption in glue distribution.
Contact us now
Our commercial team will contact you to develop the best solution.